Soul Satisfying
Ahhhh, the Galilee Region. Quiet, slowed pace, pastoral views.

A stark contrast to the hustle and bustle of Tel Aviv and Jerusalem. The perfect place to retreat to.
Home to what is known by the locals as the Kinneret (Key-nair-et), the Sea of Galilee is really not a sea at all. It's a fresh water lake fed from it's main source, the Jordan River. In fact, it's the lowest fresh water lake in the world.
Kinneret means harp. When you look at an aerial view, the Kinneret resembles the shape of a harp, like the kind King David played.
Miracle after miracle, significant for Christians, the Galilee region was the home base of Yeshua's ministry. From feeding thousands from a few fish and loaves of bread to walking on water, the Galilee region has a lifetime of historical events from this tiny area of Israel.
Yeshua's Town
My first trip to the Kinneret was with my pastor, Mark Biltz. The morning of our boat ride, the weather was perfect with calm water and serenity as far as you could see. The boat captain began playing worship songs that filled the air with praise and thanksgiving.
I'm not one who easily cries, but in that moment, I was so touched at the natural beauty while being fully surrounded by a deep peace, I actually became teary eyed. It was a most beautiful experience…one I think of often.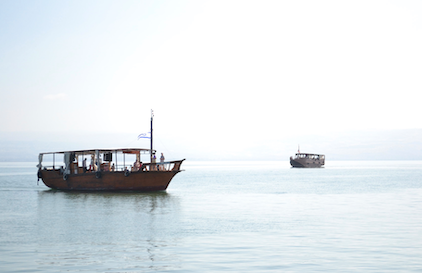 Agriculture
One of the many things I have learned about Israel is how much food they grow. Not just for their nation but for others. Did you know they export 30% of what they grow to other countries? Little tiny Israel is feeding the world. It's like Tikkun Olam mixed with a little Chutzpah!

Bananas, citrus, berries, papaya, mango, melons, apricots, olives, figs, dates, grapes, pomegranates, vegetables galore and so much more! Every inch of land is utilized…even the fields at the airport are planted with citrus trees.

Below is a picture of a banana farm and pomegranate farm situated on one of the banks of the Kinneret.
Israel has always been an agricultural people from the beginning of time. Same goes for today. Even in today's modern times, the Jewish Israeli's observe the Shemittah cycle just like 2000+ years ago. Fascinating!!
This is only a glimpse of this special region of Israel…stay tuned for more!
https://atasteofisrael.com/wp-content/uploads/2019/07/Screen-Shot-2019-06-30-at-5.42.13-PM.png
249
486
Lori
https://atasteofisrael.com/wp-content/uploads/2018/10/Screen-Shot-2015-09-22-at-11.57.45-AM-300x81.png
Lori
2019-07-23 12:15:19
2019-07-23 12:15:21
A Visit To The Galilee